Andrew Fisher, Founder, Operations Manager & Cooking Coach 

For nearly two decades,  Andrew grew a successful career at two large banking institutions but always had the desire to move away from the 9-5 grind and make a career out of his true passions; working with children and cooking. Andrew considers himself a kid at heart, especially since he has been around children his entire life. In addition to his over fourteen years as a working parent, he is also the youngest child of a family of eleven children and currently has twenty eight nieces and nephews. His entire childhood and young adulthood was spent caring for and interacting with children of all ages.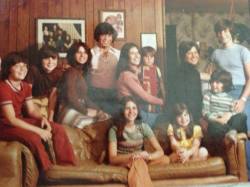 Being the youngest of eleven children was not easy. With all the hustle bustle of such a large household, Andrew had to learn to navigate his way around the kitchen on his own at an early age. When he was a teenager, he was on grill duty cooking large meals for his very large family. In college, Andrew learned to cook and eat on a limited budget and took jobs at a seafood restaurant, an asian restaurant and an italian restaurant and was exposed to a wide variety of cuisine. His love for cooking took off from there. His favorite foods to cook include Italian and Mexican dishes and he's often chided by his wife for just "winging it" with whatever                   Andrew and his 10 siblings (1977)
ingredients are on hand. He's also a self proclaimed "chili head" due
to his love of spicy food.                                                                                                                           
After moving to Tega Cay with Leslie in 2006, Andrew became actively involved in community activities. He helped found the Tega Cay Anglers Club, and shorty after, coordinated two very successful children's fishing derbies at Windjammer Park in Tega Cay for over 40 children and their families. He is actively involved in Boy Scouts with his son, participating in Troop activities and camping events. Andrew also participated in the Reading First program for two years volunteering to read to kindergarten and first grade students and has been a Junior Achievement volunteer for the past two years as well. Andrew is ServSafe® certified in proper food handling as well as First Aid and CPR certified through the American Heart Association®.
Andrew shares his wife Leslie's frustration not only with the lack of a kids kitchen in the area, but also with the "same old places" when it comes to providing interactive and educational venues for children's birthday parties. He felt that he and Leslie could develop a business that could be engaging, fun and educational all while doing something they both have a true passion for.
Andrew also has a love for the outdoors including fishing, camping, canoeing, kayaking, hiking, gardening and outdoor home improvement projects.